Coins for Alzheimer's Research Trust ~ CART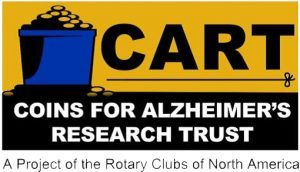 The original idea of collecting loose change to support Alzheimer's research was proposed at the Sumter, South Carolina Rotary Club in 1995. What became known as the CART fund was adopted as a District 7770 project in 1997. Since then the idea has spread to multiple Districts mainly in South Carolina, North Carolina, and Georgia. The Rotary Club – Greenville City Center is an active participant in the CART program.
As a 501(c)3 registered charity every dollar donated to the CART Fund is used to provide grants for cutting-edge research into cures for Alzheimer's disease. As of May 2022, CART has awarded $11.2 million dollars in 64 grants to recognized US research institutions. All administrative expenses of the Fund are paid from interest earned from invested contributions.
More information about this program can be found by visiting the CART Fund website and watch the made-for-TV episode that features CART, Remembering No More.